Cairns Leather N5A New Yorker Fire Helmet Custom

Detail Description
Cairns Leather N5A New Yorker Fire Helmet Custom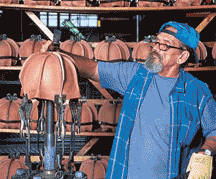 Cairns N5A New Yorker is OSHA 1977 certified
Cairns hand crafted leather firefighting helmets manufactured since 1836, retaining the original quality and authentic look that generations of firefighters expect.
Customize your helmet by choosing each component -
Color
Size
Eye Protection
Earlaps
Front Holder
Chin Strap
Trim Color
The Cairns N5A New Yorker is the original 100% leather shell OSHA-compliant firefighter helmet. Cairns has set the standard for hand-crafted excellence in traditional fire helmets for over 165 years, and the Cairns N5A has earned its reputation as a leather helmet trusted by generations of firefighters nationwide. With the Cairns N5A Helmet aside from the traditional eye pleasing fire helmet style the wearer gets features such as a quick release chinstrap that's easy to adjust and release with one hand. This custom N5A Fire Helmet also offers a choice of removable, interchangeable flannel or leather cushion liners comfort liners. Customizable Earlap protection is offered with the jumbo Nomex or PBI Earlap which provides increased protection for the ear and neck. The internal impact cap helps to absorb shock and prevent penetration. Front Holders are available either silk screened or carved, the carved brass eagle front holder is most popular or there are other Front Holder options available. For custom Helmet Fronts visit our Design Your Own Helmet Front.
Like all of Cairns' firefighter helmets, the N5A is designed to last for many years with minimal maintenance. Cairns stands behind their product with a 5-year shell replacement warranty. Every Cairns helmet comes with a comfort pad kit that enhances the fit and feel, customized to your preferences. For the ultimate in protection, comfort and durability, choose Cairns.
This helmet doesn't include Bourkes.
Sizing:
Medium - 6 1/2" - 7 1/2"
(head circumference 20 3/4" - 23 5/8")
Large - 7 5/8" - 8"
(head circumference 24" - 25 1/4")
Cairns Fire Helmets Information
Due to the customized nature of this product shipping/delivery times may vary and all sales are final.