Configure your own Helmet Front
loading...
All Hands Fire Equipment offers the authentic FDNY helmet front shields. The difference includes:

Standard Font is Full Block
Reflective panels and letters available
Larger numbers - 2 - digit numbers span across the entire front.
Fronts are not returnable
Reflective option applies to the panel text (this option may not be available on all fronts
The location of drilled holes depends on the type of helmet your front is for.
Special Options
<<
Reflective
Drilled Holes
Pricing
<<
Shield Style
$

0.00

Preferences Options
$
Number & Insignia
$

0.00

Special Options
$
TOTAL
$

0.00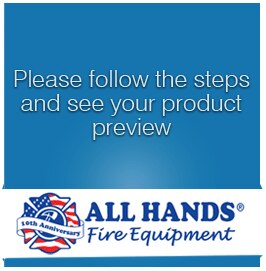 Your Current Configuration:
Front Size

4 inch front

Number/Letter Type
Type

Cairns 4 Inch Gold Leaf

Text Font
Material
Text Color
Layout

#82B Banners

Text Line 1
Front Color
Text Line 2
Panel Color
Text Line 3
Insignia
Text Line 4
Center Text Color
Number Ornament/Decal
Center Text
Reflective
Drilled Holes
Kind Of Helmet
Insert Type
Insert Color
Insert Text Color
Insert Text
Quantity

1