Hot Stop "L" Fire Containment Bag Kit - Laptop

Detail Description
Hot Stop "L" Fire Containment Bag Kit - Laptop
Hot Stop L - Laptop Fire Containment Bag
Kit Includes: Aluminized Glastemp Shell Gloves & Fire Containment Bag
Bag is 20" x 20" x 3/4"
Weight: 5 lbs (including gloves)
Proven Performance
Contains Battery Explosion
Reduced Smoke Release
Customizable on request
Fire Safety Gloves (14"):
Aluminized Glastemp® Shell
Base fabric has a 1000°F melting point
Suede reinforced palm for better grip
Fleece lined hand area
Cotton fabric lined gauntlet
Kevlar stitching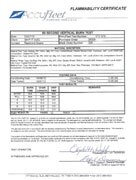 This Fire Containment bag can control a fire caused by faulty batteries, or electrics in items such as cell phones or laptops, when the use of water or a fire extinguisher is not going to work. The FAA identified the issue of Lithium Ion batteries catching fire and being a risk to flights, this Fire Containment Bag was developed as a solution. Various methods of dealing with fires caused by faulty electronic devices have been explored. Methods tested include halon extinguishers, water dousing, wrapping in a blanket and dousing with water. When a battery is at ignition point it can be difficult to prevent a fire. On a flight it's crucial to get the situation under control immediately or passengers and plane are at risk.
The Hot-Stop 'L' Fire Containment bag was tested twice at the FAA Technical Center in Atlantic City, NJ. The live fire photos shown here were captured from video footage of the test. When the bag was fire tested by the FAA and later by FedEx neither one was able to burn through the bag.
Adding the Hot-Stop 'L' Fire Containment Bag to your fire safety program is a safe and simple way to control potentially uncontrollable situations.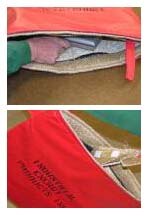 FAQ:
How does the bag close?
Once the item is placed in the bag and the hook and loop is exposed for closure by pulling the large red tag.
Where and how should the bag be stored?
The gloves fit inside the bag and its recommended that the bag be stored unfolded.
How hot does the outside of the bag get and where should it be placed when in use?
The outside temperature may reach a maximum of 140 - 150 F and could be placed in the sink or anywhere away from passengers.
How high a temp can the hot stop fire containment bag handle?
The Hot-Stop bag is manufactured with two inner layers of Hot-Stop L with a core between the two Hot-Stop L layers of a ceramic. Hot-Stop L has a 2080° F melting point and the Ceramic Felt has a 3200° F melting point.