Thank you ALl Hands Fire!!


These helmets are awesome. We'll use them when we blow up stuff"The MythBusters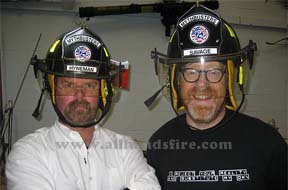 I just wanted to take a few minutes and acknowledge the customer support that your company, specifically Scott provides. We have been a customer for a few years and I have to say that the timeliness and professionalism is amazing. Sometimes I need to buy from other companies and man they aren't even in the same county of the ball park, let alone the park! Anytime I email Scott I get a response usually within a half hour or a few hours depending on the time of day. I can't get that support from companies we spend hundreds of thousands of dollars with!
It's not often that I write these emails but in this instance I just felt that I had to let you know.

Steven Hadgkiss
Southard Fire Department
To Tara & Don,
Just wanted to take a moment to thank all of you for your help! No matter how many times I called with my nervous questions, and I know I called with many, your patience with me and your over the top customer service made me feel at ease and the ordering process made easy and flawless. Not only did you beat everyone's price, you went an extra step further So a BIG Thank You to Don for mounting the shield to the fire helmet for me.
Robin
New York, NY
I just wanted to take a minute to let you both know how much I appreciated the help from your customer service. I recently placed orders with several vendors for equipment for the Seat Pleasant Volunteer Fire Company. Out of all the vendors I have been working with, your company had some of the best customer service. In addition I would like to send my appreciate to your dedicated customer service staff assistance specifically. We were in contact several times regarding a Clemen's Hose Bag I had ordered, yet had not received. Even though they had not heard back from the vendor your staff left phone messages and emails with me keeping me up to date on the status of my inquiry. I have not found this level of customer service with any other vendor. Please send them my appreciation.
Kevin Brenner
Captain/ Vice President
Seat Pleasant Volunteer Fire Company
Station 8
As we all know online shopping is the way of the future. It eliminates valuable time for all of us. I've found All Hands Fire Equipment to be one of the best online Fire Service shopping experiences yet. My orders are processed and shipped in a timely manor and any questions or concerns are answered with expedience. I've also found that the costumer service department along with the equipment training department is more than helpful. I often refer my counterparts to
www.AllHandsFire.com
for their purchases or questions.
Chief Glenn M. Kramer
Hughsonville (NY) Fire District
Thank you for outstanding customer service. The Haix boots are working out well much better fit than Black Diamond or Globe.
Allison Loebs
Colchester, VT
Irene - I hope that you can pass this along to your fellow employees and if possible your ownership and or boss. I found your website by random chance on a google search while trying to locate a helmet front holder. I have been purchasing products on the internet for probably the past 8 years and I have never been happier with communication, timely delivery, and product selection you offer. I know I only ordered two small items from you, but I have been dealing mainly with an online competitor of yours for all of my purchases, and I have yet to receive the kind of service and timeliness you have provided. Thank You, Your newest lifetime customer.
Firefighter Rick Boisvert
Brighton, MI
Hello, I would like to take this time to write you to tell you about your great customer service staff that I have been dealing with on an order for a few weeks now. I have been talking to your staff on the Internet in reference to my order and problems that were encountered. Your staff were very professional, courteous, and very helpful to me. Its people like them that make my job as a Firefighter in the field alot easier. I will continue to deal with All Hands Fire Equip. on my future orders. I have dealt with alot of companies as I am ordering equipment for myself and as I am on my Dept. training and equipment committee. By being a part of this I have dealt with alot of companies but never had the fast and professional response I got from her. Again Thank you to to your outstanding customer service and your company. Thanks.
Brandon Carmack
Polk County Fire Rescue
FF/EMT (FTO) 5007
7 Engine/ B Shift
" NEVERLAND"
Nations 41 Busiest Engine
I just wanted to let All Hands Fire know how impressed I am with both the Gerber Avalanche Jacket and your customer service. The jacket is of the highest quality and is exactly what I needed in a Law enforcement duty jacket. The best part about the jacket is it has a Thinsulate liner that also has micro fleece. The common jackets law enforcement officers purchase are the Spiewak weather tech and one of the many Blauer jackets, which will all run you about 300.00. In my opinion the Gerber jacket is of superior quality to both the other jackets and is less expensive."
Josh Parkins
Deputy First Class
Bernalillo County Sheriff's Department
Traffic Investigations Unit
"The Halligan tool arrived perfectly a couple of days ago. I took it out promptly, and this thing, quite frankly, kicks ass. Locks that we would have wasted time pounding on before now pop with little to no effort. Instead of carrying 3 different tools, all we need is the Pro-Bar. So far, I've popped dozens of padlocks, ripped a door in half, shattered 5 car windows, and popped open a car door with it. After seeing how awesome it is, my Platoon Sergeant pushed info on it up to our Company XO to see if we could get funds to outfit the company with them. Thank you so much for all your help, this thing has made life much easier for me and my squad. Thanks again."

SPC David Wichmann
US Military, Middle East
"The National Aeronautics and Space Administration (NASA) recently established a formal Technical Warrant policy. This policy requires the identification and deployment of an inspection team that is to serve as the eyes and ears of the Non-Destructive Evaluation (NDE) Technical Warrant Holder. The NDE Technical Warrant Holder is final authority in non-destructive inspection, its application, and approves inspection waivers for all of NASA systems requiring safe and reliable operations. It was critically important for this inspection team of NDE Agents to be in place and operating at full capacity before NASA returns to flight. I want to thank everyone at ALL HANDS FIRE EQUIPMENT for helping our team establishing its organizational presence and authority, by rapidly developing and delivering NDE Technical Warrant Agent ID badges. The ID badges are now coveted by others, and personnel are striving to excel in order to be designated as an Agent of the NDE Technical Warrant Holder. Again, thank you for making it all happen so smoothly, quickly, and professionally."
Ed Generazio
NASA - NDE Technical Warrant Holder
"We have been a customer of All Hands Fire Equipment for several years, and since the beginning, we have received nothing but the highest level of service. It is refreshing to deal with a fire service equipment representative that has first hand fire experience, like Don. Don is truly passionate about the fire service, and committed to selling only the right equipment for the job. If you are looking for the best equipment, backed by a knowledgeable professional, who delivers quality service, then All Hands Fire Equipment is the only vendor you need."
Chief Thomas Vogel
Point Pleasant Beach (NJ) Fire Department
"We at
Firefighter Rescue Inc.
have had several occasions to work with Don Colarusso and his staff at All Hands Fire, we have found them to be a most professional and dedicated fire equipment company. Their commitment to the fire service is evident in their fine line of equipment and their attention to detail. We have used several of their products during our training and have found them most satisfactory in design and construction. As fire instructors we highly recommend All Hands, and as firefighters we thank them for their efforts."
Paul Hashagen
President, Firefighter Rescue Inc. (NY)
FDNY Rescue Company 1 (Ret.)
"Just wanted to express my sincere appreciation for the rapid turn around on my recent order!! Believe me, I will be coming back to All Hands (10-75 the box!!) for future needs. Thanks again... "
Tim Whalen
East Wallingford VFD, Wallingford, CT
"Hi Scott. Although it was a minor order, I certainly want to convey my gratitude toward your attention to getting it out in a timely manner. I am well pleased with the product, as well as delivery time. Kindest regards."
Joe
Fletcher, NC
"Don, Thanks for your prompt delivery of the Rescue Net to our squad. We were really surprised that we received it that quickly. As always your service and the quality of your products is exemplary."
Bill Voelkel
Captain Wall Township (NJ) First Aid & Rescue Squad & EMT Training Coordinator
Recently, the members of the Wellston Fire Department had the chance to purchase new tools and equipment. Well, we purchased halligan bars and K12 saws, but we couldn't find any good 3-4 foot hooks. There was always a closet hook or a 4' pike pole, but that just didn't maximize the space in our compartments. So, with a little bit of brainstorming, and the help of All Hands Fire Equipment, the members of the Wellston Fire Department designed this tool. The tool, now known as the "Wellston Hook," consists of a drywall hook on one end and a roof hook on the other. The total length is 40 inches, which is actually less than our original design of 48 inches. It is the perfect length for many tasks, easy to carry, easy to mount, and takes up less room than a normal closet hook. It is by far the most versatile tool we've used.
www.wellstonfd.com
Wellston Fire Department
Wellston, OH
"Just a quick note to say thanks for Helping us out with exchanging that belt. We appreciate your excellent customer service, especially with such a small sale. Between my military deployments and the way our small volunteer department operates, communcations can be an adventure. We appreciate your patience. We recieved the replacement belt about 6 weeks ago, and I'm just getting around to writing this now. I'll definitely keep you guys in mind next time I have an equipment need. Thanks again"
FF Tom Blyth
Southwest Harbor (ME) Volunteer Fire Department
"I have had the great pleasure of purchasing items from All Hands Fire Equipment. They are a highly reputable, dependable and are also a great fire service resource. Anything that I need, they find - and always at very reasonable prices. I highly recommend All Hands Fire Equipment. They certainly care about the job and the people that they serve."
Joseph L. Mauro IV
Assistant Chief, Neptune (NJ) Fire Department
"Thanks for the great customer service."
Lt. Greg Rauch
City of Fairfax (VA) Fire
"Today was a perfect example of All Hands Fire Equipment's great customer service. I certainly didn't expect a phone call and such a quick response. I really appreciate it!
FF Scott Eckels
Monument, CO
"Hey Don, just wanted to drop you a quick Email and thank you for all your excellent and prompt service you give our Fire Company. We pride ourselves in being a very professional outfit and All Hands Fire Equipment provides us with the quality tools we need for the job. We will continue to use All Hands for all our Fire Company needs. Again Thanks and keep up the good work."
Lt. Bob McDonald
Unexcelled Fire Co. (NJ)
"Thank you for the quick reply. I now know why everybody recommended your company, for the excellent service. I hope to be in touch with you within the next week or so to place an order. Thanks again for all your help."
FF J.P. Blais
Coventry (RI) Fire Department
"Don and Scott - I am sending you this Thank You in appriciation for all the help you have given my business. I really appriciate all the last minute wires and parts that I need to complete a job or use to make a customer happy. Your business has always satified my needs and I will continue to use All Hands Fire Equipment to make my business strive for excellence. Thank you!"
Steven J. Mitchell, Owner
W.O. Installations, LLC (NJ)
"Thanks for you dedication and hard work,i will be recomending your company to others. Thanks"
FF Andy Gardner
Mason, Ohio
"I am a volunteer Fire Chief with a very busy family life. When I sit down to get quotes or order equipment I don't have time to play phone tag. I simply send an E-mail to Scott or Don and I always get a fair quote and my order most times without ever having to place a single call. It doesn't get any easier than that. Keep up the good work."
Fire Chief Jim Wendt
Boonton (NJ) Fire Department
"I would like to take this opportunity to thank All Hands Fire Equipment for all their help and cooperation in the past months. Our Department, as well as individual members, has had the need to purchase many varied pieces of Firefighting equipment. In all instances, All Hands always comes through! From small gadgets to hi-angle rescue equipment and heavy tools, there is never a problem researching and ordering the product. And shipping has always been a non-issue, as all of our orders have arrived in a timely fashion. So I'd like to say, "keep up the good work" and recommend All Hands Fire to all my Firefighting Brothers and Sisters!"
Rich Meyer, Ex-Chief & Training Officer
Hamilton Fire Company (NJ)
"I'd like to thank you for the great service you provided to us in outfitting our Fire Department with all of our R.I.T. equipment. As you know we put it all to good use over the past year at some "Hot Jobs" in the County. Thanks again for the prompt and professional service you provide to the Fire Service."
Asst Fire Chief Howard McLaughlin
Naval Weapons Station Earle Fire & Emergency Services (NJ)
"I have been VERY happy with the items I have ordered from you and your service and prices. You guys are first rate. Thanks for your help."
FF Aron Buch
FDNY Ladder Company 23
"Thank you. This is great customer relations. The decals are first rate. I'll spread the word about your help at the Fire department and give them your business address. Again, Thanks for your help."

Dave Mullen
Frankfort (OH)
"All Hands Fire, I got a call from my daughter on Sunday to let me know that she had received the flashers. Let me tell you that I was very happy. Even though I know it's not enough I just want to say: "THANK YOU". Both she and I will be telling everyone about your service and how great it was. You made my Christmas because I know my daughter is happy. Merry Christmas and a Happy and Prosperous New Year."

William Powers
Fort Myers (FL)
"I received some of your literature at the Fire Mega Show at the Nassau Colliseum in New York. We are looking to equip our new fire apparatus. I am very interested in your line of products and have heard many great reviews about All Hands Fire Equipment. We look forward to working with you in the future."
John D. Clark
R.T.F.D Mt. Hope Co#2 (NJ)
"Don, Thank you for the phone call and information the other day. I decided to go with the RIT Option 2 Egress Pack. You and your staff were most helpful. I look forward to getting my kit and hope that I can convince others in my department to give you some business. Thanks and Be safe! "
Battalion Chief Kent Mallalieu
Montgomery County Fire and Rescue Service (MD)
"The brothers at the firehouse said that your prices were fantastic and fair considering that fire equipment costs so much. It is important to find a place that you can trust! Thank you."
Cameron McCreary
Greendale Fire/EMS (IN)
"Thanks for running a great fire equipment company that carries the best of the best."
Captain Brad Creasy
Bedford Fire Department (VA)
"I just wanted to say thanks to you and your staff for your outstanding service. You handled my special order for high visibility reflector vests for Va. Game Wardens with special attention and care. They have been distributed across the state, and the word I hear is that everyone likes them. Thanks for your great service and price on a non-stocked item. I'm sure we'll be in touch with future orders. "
Captain Michael Minarik
Department of Game and Inland Fisheries, Williamsburg (VA)
"Thank you for assisting me with color schemes on my recent order. I wasn't sure what it meant by background color. I'd like to purchase the same item as displayed on your website. Again I would like to thank you for noticing that and mentioning it to me. If this is any indication of how you work for your customers, then you can expect much more business from me in the future."
Tony Tracy
Auburn, MI
"On Sept 22nd I ordered a pair of gloves. On Sept 23rd I came home to the firehouse and the gloves were sitting there. Awsome job on fast shipping, thank you. I look forward to spending more money on your site! Thanks."
FF/EMT T. Liedl
Monroeville VFC #4 (PA)
"I recently purchased a Cairns N5A Leather Helmet from www.allhandsfire.com. They had the best price of anyone. After the purchase, the staff was very responsive to all of my questions and email correspondences. To my surprise, the helmet arrived in only 3 days, without any problems. My department and I will definitely purchase additional items from allhandsfire.com in the future."

Captain M. Kevin Fox
Cornelius-Lemley Fire Rescue (NC)
"I would like to thank you for your prompt service and attention to my order. My order was filled promptly and complete even in a time of crisis in our nation with hurricane Katrina. I will be notifying the personnel in our department of how much attention was made to my order, and hopefully other orders in the future. Thanks again."

EMT/Firefighter Mike Benton
Bernalillo County Fire Department (NM)
"Just wanted to send you a quick note to say thanks for the recommendations on the hoods and gloves. They were exactly as described and worked better than expected under extreme fire conditions. I will pass along to the guys in the firehouse my excellent experience with All Hands Fire Equipment. Thanks, again."

FF Pete Sykes
Irvington Fire Department (NJ)
"Don - Thanks so much for all of your help. I know the guys are looking forward to giving the Cairns Leather New Yorker to our Battalion Chief. Also, please tell Irene thank you for her fantastic help on the phone the other day.Thanks again!"

Scott Eckels
Monument (CO)
Got my Streamlight Fire Vulcan 2 days ago and it works great. Now everyone is getting a Vulcan at my station. Thanks for all the follow up and phone calls. That's just great customer service! I will be purchasing from you all again when I need something, that's for sure. Thanks again.
Scott Seely
Atlanta Fire Rescue - Engine Co. 38-C
Your company is fantastic. I will be a customer for a very long time. I appreciate your help as well as the great prices you have. I have expressed my enthusiasm for All Hands Fire Equipment to most of the members of my department. Thank you so much and I wish you the very best.
Firefighter Chris Fosterling
Montmorenci Fire Dept. Aiken, SC
I would like to just say thanks to Mary Lu for all her help while ordering a Cairns 660C Helmet (green in color). She was very helpful and great to work with. I'm looking forward to getting the product so that more people in our CERT program will be able to also purchase from your company with confidence. Thanks again hope to order more product soon.
Kelly Bertoch
CERT Community Emergency Response Team, Utah
Thank you. I am very pleased with the product and the additional service re: sizing information.
John Lemley
Morgantown Fire Department
"I received Sling-Link today. It's great and easy to use. All Hands Fire Equipment responded quickly to my request! It was great to deal with you. The french firefighter I am thank you very much for all !"
Sebastien Thilly
Ancenis, France
Thanks so much for your assistance. I can't thank you enough. Its the extra level of customer service that all hands provides that keeps me coming back. You guys are hands down the best online source for firefighting gear.
Thanks again.
Scott Schum
Scott Schum
I just want to say how absolutely fantastic working with your company was for me and how happy my fiance is with his helmet!

I went looking for "the only helmet approved by CAL-OSHA" for my fiance when he got hired with Alameda Fire Department here in California and, apparently, there is only ONE leather helmet they will allow him to wear once he is off probation. With him being a 3rd generation firefighter in his family (grandfather in Ireland and father in Oregon) and with my grandfather being a retired firefighter who still has his leather, I knew this would be important to him and set out to find this "holy grail" of helmets.

Immediately upon stumbling on to All Hands Fire, Scott provided me with a very prompt estimate on my order and then Tara was wonderful to work with over the phone not only with placing my order but explaining the long process in ordering these helmets and also when I ended up needing to correct the size of my order with no extra charge or fuss, she just explained it would push the order back.

Low and behold, about a week ago we received his helmet and it is perfect! I think I was as excited as he was for it to arrive.

Thank you again All Hands Fire, Scott and Tara for being such great help during this process. I will definitely be recommending you to anyone else who could use your services and will be coming back for everything we ever need!!
Ashley
Alameda Fire Department